Secure and automate the creation and delivery of high-volume transactional documents and mission-critical business correspondences. With Greypad ADF, you can simplify the creation of highly personalized communication, encrypt all the files with ease, combine data from multiple source systems, generate delivery channel specific output files, enable secured remote printing with zero-touch deployment, and much more. While majority of ADF solutions focus only on asset creation, Greypad ADF helps you take control of the data management as well. Access to the right data makes complex rule-based processing possible. Documents can be generated on demand or in batch and delivered across any channel based on preferences. Along with end customer documents, you can also leverage the ADF for internal users for MIS, analytics, notifications, and alerts.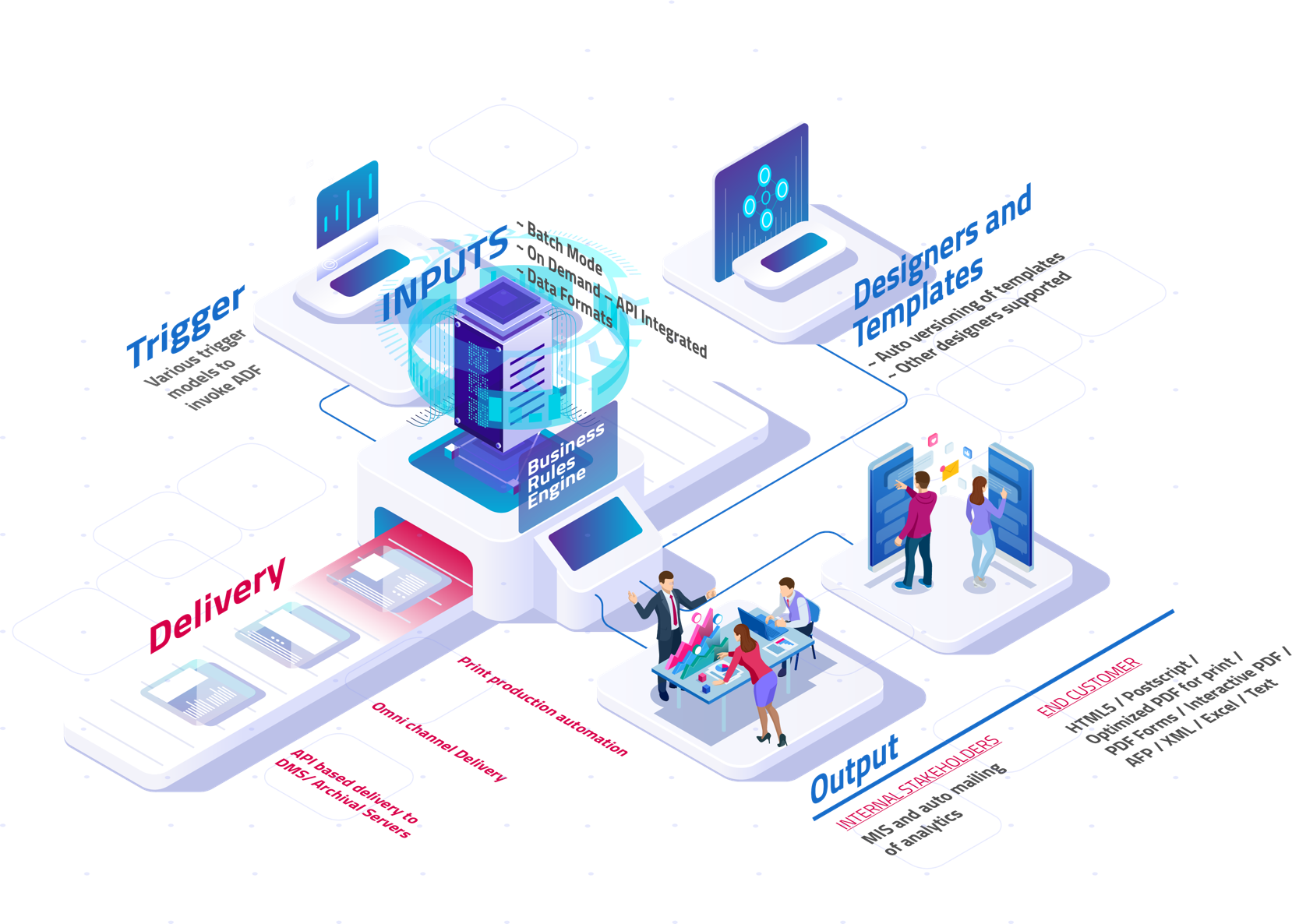 Offering multilayer security along with standard AES 256-bit encryption, Greypad ADF is the perfect choice if security is your priority. Our ADF platform also comes with one of the easiest designer modules. This means that finding people who can work with Greypad ADF will never be a challenge. You can save the time and resources it takes for employees to get trained on a new platform and start getting results from day one.
Take no chances with security
Greypad ADF has built-in credential based cryptographic libraries. This enables you to not only encrypt the output files, but if you are leveraging cloud and need to encrypt the intermediate or input files as well, you can do so with ease. You can restrict the encryption/ decryption functionality based on user, machine, time, or application. The platform also provides a unique security barcode that provides digitally signed print documents which can be authenticated and validated using hand-held devices without the need of internet or access to central server.
Trigger document creation whenever required
Along with batch processing which only takes periodical or folder-based input, Greypad ADF enables you to give on-demand and multiple data format inputs as well. With API integration, the ADF engine can start communication creation based on data received from company, customer, or partner apps. From flat files and database to legacy systems and data in the app, the ADF has capability to process inputs received from all types of systems/ streams
Implement business rules engine
If there are 20 million transactional documents to be generated, which ones should be prioritized? Which communication should be delivered via which channel? Communication should go out to which customer in which language? Accelerate and automate all such decision-making processes. With Greypad ADF, you can easily define and configure various business rules to optimize processes. Greypad ADF can also plugin any AI and ML models you prefer for any decision making you want to leverage from those.
Design smarter, faster, and with ease
The designer module in Greypad ADF supports all .NET languages. If users know any one of them, then they can work with the designer without any steep learning-curve. If there is a need, extensibility of the Designer can be leveraged by developers to create their own custom controls. The ADF also automatically manages versions of all communication templates. For instance, if there is a need to retrieve a communication sent one year ago, the ADF will retrieve the template that was live then and create the document in real-time. ADF also supports leveraging existing/legacy designs created in other 3rd party software to avoid cumbersome and time-consuming migration requirements.
Get output which you truly need
Greypad ADF is not just for delivery to end users, but also for MIS and auto mailing of analytics to stakeholders like Branch Heads, CXOs, Customer Representatives, and Relationship Managers. From secured HTML5 and print-optimized PDFs to postscript, excel and custom outputs, all the formats you need are available. Go a step further and send only a tiny personalized url (Purl) to the customer. Instead of creating all the documents at once, the document is generated instantly if the customer clicks on the Purl. This helps save compute power and accelerates document delivery.
Ensure omnichannel delivery with complete
monitoring and control
From email and messages to web and print, deliver consistent experiences across all channels. Greypad ADF is the only solution that offers remote monitoring of delivery at each stage. Along with parallel processing of every stage, partial rollback of selected/all records at any stage prior to delivery is also supported. You can monitor which files are in printing, what percentage of the printing has been completed, and what is the estimated time of completion.
Easily manage and optimize all print jobs
From cheque books and monthly statements to loan overdue reminders, millions of documents are printed every month by all banks. ADF process managers not only manage such huge volumes of print requests but also need to optimize them daily. Without proper visibility and information, it's easy to make a mistake.
Imagine a scenario – a print job is assigned to a printer who already has some pending requests. Moreover, the vendor has limited printers required for this job. Not only will this lead to unnecessary delay but may also result in additional expenses. Greypad ADF helps you avoid such issues by providing complete visibility and control over all print requests. When you identify a possible slippage, you can move the volume to another vendor/print location in a click.
Analyse the performance of all printers
Optimize print job assignment with data-driven insights
Check the status of all print requests in real-time
Identify bottlenecks before they translate into major issues

Products
Automated Document Factory
CCM
ECM
Omni Channel Experiences
Solutions
Communication Insights
Robotic Process Automation
Customer Experience
ETL ( Extract, Transform, Load)
Industries
Banking
Education
Government
Insurance
Telecomunications
Utilities
Healthcare
Labs
Whitepapers
Research Reports
Resources
Learning
Product Documents
About
Clients
Team
Careers
Locations